(Last Updated On: December 22, 2022)
Kafunta Safaris presents unmatched consolation & pleasure, with the excellent sport viewing at Kafunta River Lodge, the adventurous wilderness of Island Bush Camp, and the beautiful views and distinctive sleep-outs at Three Rivers Camp!
In our enormous Absolute Africa overland truck, it took us about a day to get from Lusaka to South Luangwa National Park, but it was well worth the journey. You could spend at least three days exploring all that this incredible region has to offer.
Speaking of Absolute Africa, I'm presently giving my readers a unique discount on all of their excursions, allowing you to see this incredible continent even more for less money!
This article will give an overview and a review of Kafunta Safaris as well as the South Luangwa National Park in Zambia travel guide.
South Luangwa and North Luangwa National Parks safari

One of the main draws of South Luangwa National Park is that it is frequently cited as the origin of the classic walking safari. The valley's bottom is roughly 1,000 feet lower than the surrounding plateau, and it serves as the southernmost portion of the Great Rift Valley. The Luangwa River, which flows through the center, is fed by several "sand rivers" that flow during the wet season, turning it into a roaring torrent.
Season to season, the Luangwa regularly changes its path, resulting in the formation of several oxbow lakes. These lakes play a significant role in the ecosystem of the valley and are responsible for the parks' high carrying capacity.
North Luangwa National Park
The 4,500 square kilometer North Luangwa National Park is generally off-limits to the general public, save for a few wilderness camps along the Mwaleshi River. There aren't many roads, so everyone who wants to see the wildlife must walk. Even while huge herds of herbivores, notable buffalo, are frequently sighted and watched by the local lion pride, this safari is more about experiencing nature.
Luambe National Park is located on the eastern side of the river, midway between the North and South parks. It is a tiny park with a total size of approximately 250 square kilometers, and most people only see it when driving between the north and south parks. One safari camp exists.
South Luangwa National Park
The South Luangwa National Park, with a surface area of 9,000 square kilometers, receives the majority of visitor traffic. Although it crosses the river twice to the east, most of the park is located to the west of the river (Nsefu and Luamfwa). In comparison to the northern park, there is more wildlife and a far wider range of tiny lodges and temporary bushcamps.
The Mfuwe district, adjacent to the local airport, is the park's busiest area, with multiple lodges around its center portion in close proximity. However, after you leave Mfuwe (to the north or south), the safari experience becomes quite private.
Safari seasons
The primary safari season is quite brief, lasting from June until the end of October, just before the start of the rainy season. This is a great time to see wildlife, especially as the dry season wears on and the Luangwa River becomes more and more important to the animals. Some establishments remain open during the wet season (November to May) and attract visitors with special "green season" pricing. Although there are now very few opportunities to see the game, bird watching may be excellent.
Many safari companies have a primary, more permanent lodge and a series of seasonal bushcamps to supplement it. This "major" lodge is often found in the Mfuwe sector's center, close to the airport and supplies.
Although it is the least exclusive area of the park, the Mfuwe region does provide excellent opportunities for seeing games. If you want exclusivity, you don't necessarily need to spend time in the popular Mfuwe region because a few operators have their primary lodges or camp elsewhere.
Seasonal bushcamps
Due to the scarcity of roads and pathways, the seasonal bushcamps frequently focus on walking safaris and are situated in the park's most remote regions at the start of each season. These bushcamps typically hold no more than 8 visitors and are usually composed of grass and reeds (although some are now covered in canvas). Unsurprisingly, there has been a shift in recent years toward more cozy bush camps, while some still provide an exciting experience.
Wildlife
In South Luangwa, wildlife viewing is outstanding. Elephants, while a little smaller than their counterparts in the southern African savannah are also common, as are buffalo (which may be found in large herds), kudu, waterbuck, puku, impala, bushbuck, warthog, and reedbuck. Thornicrofts giraffe, which is more frequently spotted in the southern section, and Cookson's hartebeest are two examples of endemism (more common in the northern sector and in the North Luangwa).
The valley is arguably most renowned for its number of predators, especially lion and leopard, the latter of which is seen three out of every four days. There aren't any cheetahs around, and your chances of sighting a rhinoceros are slim.
Birdlife
The Luangwa's birdlife is equally spectacular, with over half of all Zambia's species (about 700) having been identified here. The huge flocks of crowned cranes, as well as the carmine and white-fronted bee-eaters that congregate to nest on the river bank, are special spectacles to behold during the dry season.
Activities
In South Luangwa, visitors may go on day and night wildlife drives (night drives are particularly effective for seeing leopards), as well as go walking. Most camps offer walking as an activity, and some of them advertise themselves as being far more focused on walking than driving. There are a few designated multi-day walking paths accessible for those seeking challenging walking adventures. Many lodges also use wildlife blinds and hides.
Kafunta Safaris Overview

Kafunta Safaris are positioned in spectacular settings and supply particular person consideration. Mix all of them for the last word South Luangwa expertise.

With unforgettable sports viewing, moments, and personalized internet hosting Kafunta Safaris will guarantee your dream safari comes true.
The South Luangwa National Park is likely one of the nice African parks and its unspoiled wilderness is teeming with wildlife.

You'll experience all of the consolation and pleasure an African safari can supply, whether or not that be within the luxury of this classic Kafunta Safaris, Kafunta River Lodge, or the extra rustic and adventurous wilderness camp, Island Bush Camp, or a mixture of each. A Zambia safari helps you to expertise in the essence of Africa.
Kafunta River Lodge: A Traditional Safari Lodge
The classic Kafunta Safaris simply exterior the South Luangwa Nationwide Park which presents all of the comforts and unrivaled sports viewing.
At Kafunta Safaris every posh personal chalet and the principal lounge & eating space overlooks the sport-wealthy flood plain. Past the plain is the Luangwa River and top-of-the-line sport viewing areas of the magical
Island Bush Camp: Actual Wilderness Camp
A country camp located inside the South Luangwa Nationwide Park on the banks of the Luangwa River within the true African wilderness.

Island Bush Camp presents untouched wilderness and strolling safaris in a distant and wild space of South Luangwa Nationwide Park.
This genuine safari bush camp is ready beneath the cool shade of outdated mahogany timber on the banks of the Luangwa River.
Recreation Drives
Kafunta River Lodge has its personal pontoon 5 minutes from the lodge and this adventurous river crossing takes you into the extra distant areas of the park, giving entry to terribly good wildlife encounters.

The early morning hours are perfect for a sport drive or alternatively a strolling safari will be organized.
Throughout your afternoon sport drive, we cease for sundowners within the bush to completely expertise the magnificent African sunsets.
You proceed with the drive in the dead of night which lets you spot nocturnal animals.
Walking Safaris
The South Luangwa Nationwide Park in Zambia is the house of the strolling safari and one of many few locations place it's doable to stroll amongst the African wildlife.
Walking safaris are a terrific alternative to being at one with nature and expertise in a safari from a novel perspective.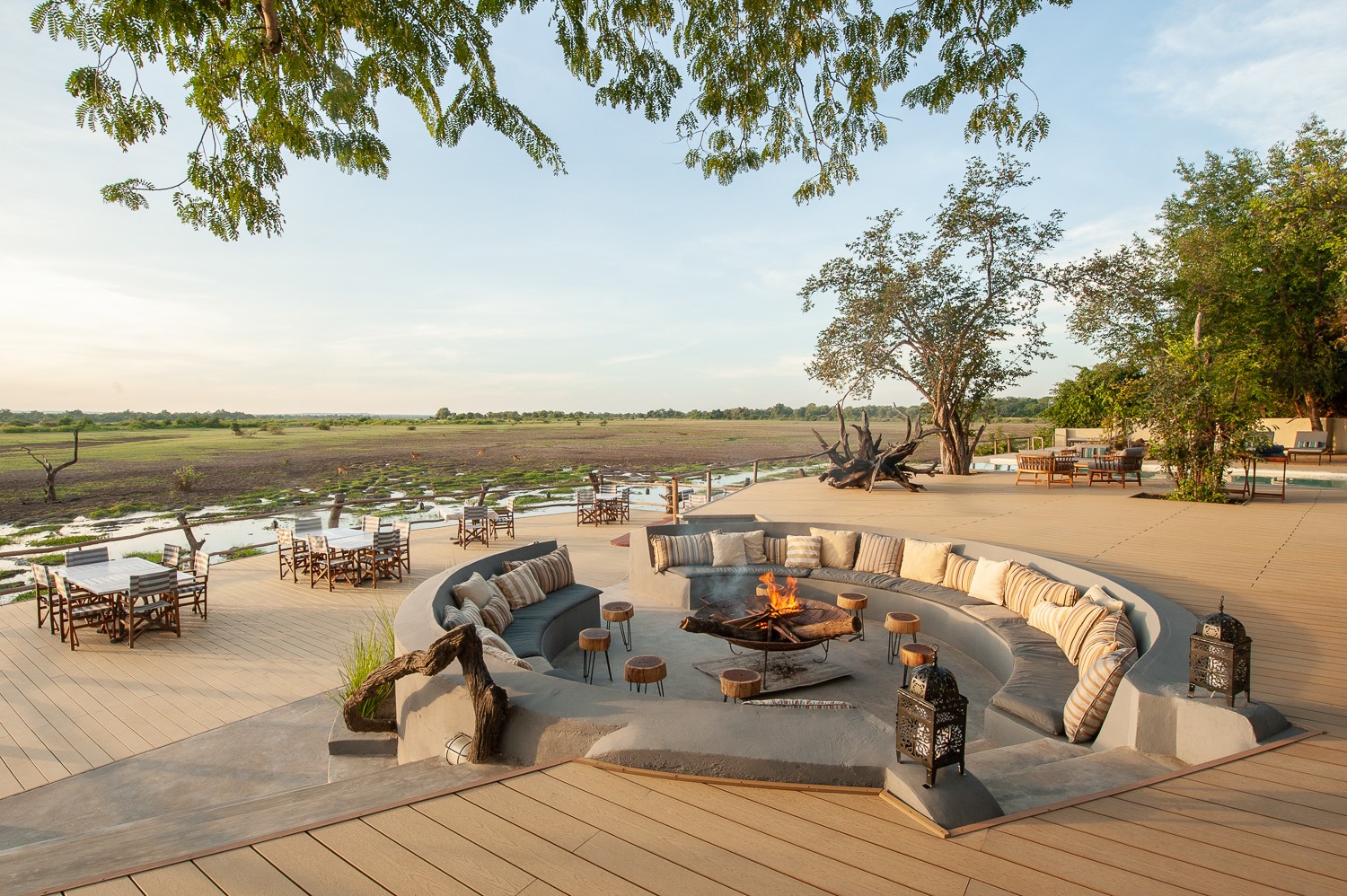 Bush Experience
Bush Experience safari bundle presents a novel alternative to mix the consolation and luxury of Kafunta River Lodge with the country's great thing about the Island Bush Camp. Right here we mix your strolling safari in South Luangwa with game drives.
Each lodge and the camp are located within the Luangwa Valley, one of many prime spots for very good sports viewing in Southern Africa. Prolonged Safaris:
Listed below are some examples of safari locations that mix properly with a Zambia safari at Kafunta River Lodge and Island Bush Camp. – Luangwa Extension: Discover South & North Luangwa – Decrease Zambezi National Park:
River Safaris in Zambia – Kafue Nationwide Park: Large Wildlife Sanctuary – Lake Malawi: Bush & Seaside Safari
A review of Kafunta Safaris

A review of Kafunta Safaris from the expertise of Ole Bernhardt Petersen (Denmark):
We noticed 6 leopards, 30 lions, greater than 100 elephants, hippos, buffalos, impalas, bushbucks, kudus, zebras, waterbucks, crocodiles, giraffes, warthogs, hare, hyenas, baboons, monkeys, plenty of small animals, + night time animals (cannot bear in mind all their names), and many birds in lots of species.

Safari Operator Efficiency

I discovered Kafunta Safaris on the web.

Every part was wonderful.
Lodging
We stayed three nights at Kafunta River Lodge and three nights at Island Bush Camp, each located on the Luangwa River. Each camp is wonderful.

Some background – our journey was a reminiscence journey to Lusaka and the Bush. We lived (labored) in Zambia from 1973-75.
We have been within the bush as a lot as doable doing searching and fishing.
We stayed in our personal camps within the searching areas and in addition to a pal who was working as a prof hunter with Zambia Safaris.
We have been in search of a safari firm that has been working camps near the camps with Zambia Safaris as doable, i.e. no electrical energy and never too fancy.

We discovered that with Kafunta Safaris though all of the huts had a personal bathroom and bath and the Kafunta River Lodge additionally had electrical energy. For us, the Island Bush Camp was the most effective, most primitive.
It was nice simply to be again within the bush after 30 years.
Meals
The meals were good. Continental breakfast, lunch, and dinner scorching three programs meal. We didn't eat native or conventional meals.
Typical Day
Kafunta River Lodge
Get up 5:15, breakfast 5:30, sport drive 6:00, cease for a light-weight meal approx 8:00, house approx 10:00, lunch 11:00, loosen up until 15:30 afternoon tea/espresso/cake, afternoon drive 16:00, cease for a "solar downer" approx 18:00, night time drive with highlight until 20:00 returning to Camp, 20:00 dinner adopted by drinks on the hearth.
Island Bush Camp
Get up 5:15, breakfast 5:30, boat to cross the river 6:00 for strolling safari, cease for mild meal 8:00 returning to camp 10:00, lunch 11:00, loosen up until 15:30 afternoon tea/espresso/cake, strolling safari until 18:00, 20:00 dinner adopted by drinks on the hearth.
Ideas and Recommendation
Journey mild.
Bear in mind to take binoculars.

Website
Other Recommended Reading